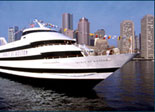 Last time I went on a vacation to Chicago was the weekend before I had an interview at Willian, Brinks, Olds, Hofer, Gilson & Lion, Ltd., the leading patent firm there. I always do well when I spend time with my friends right before any interview. So that time I thought I might as well take them along on a trip. It was mid-March, and when we left for Chicago it snowed for the last time in the Midwest.
That weekend did turn out to be wild. I remember we stopped at a Rodeway Inn, and there was the famous Chicago deep dish pizza restaurant
and
a fusion jazz bar nearby. Next morning we were really hungry, wanted a stack of real pancakes. That we could not find. We were directed to Walker Brothers in Highland Park. This was one-of-a-kind experience. I have never seen pancakes this big. Later in the afternoon we went on a lake cruise, and the waves picked up inexplicably, causing the boat to roll like we were int he middle of an ocean. Then we spent the rest of the weekend in drunken stupor. Come Tuesday, my friends already back home, I was bright and ready for the appointment. I did not get the job, lucky for me, since I got a job at a really convenient place back home. Next time I would know better and organize my vacation ahead of time through Internet, like look up and use companies that offer
sightseeing tours
. I found one, and they are Trusted Tours & Attractions. They offer discounted tickets to the best sightseeing tours in 23 cities across the country. Thus, should I want to vacation in Chicago, I would definitely do many of the activities I found on
the Chicago page
. I would really plan my vacation thoroughly, and even do such an obvious thing as look for ideas on what to do by signing up for
the Trusted Travels eNewsletter
and at the same time have chance to win a $150 iTunes gift card offer that ends Saturday, May 31st, 2008.
Things to do in New York City
is also where I am going to plan my trip to NYC and stay sober.